If you are an SEO specialist, you probably know one of the most used online plagiarism checker that is fast and accurate. Yep, it is Copyscape. I think most of us will agree that Copyscape is a tool that has excellent performance of finding duplicate content on your text. Even then, when we haven't created UniqueText, we also rely on Copyscape to determine one article's uniqueness. There are several features that are not found in another similar tool. But, that doesn't mean Copyscape doesn't have any weakness.
Here I will talk about the pros and cons of Copyscape, especially its wordpress plugin, then I will compare it to UniqueText's plugin.
Copyscape Plagiarism Checker
Copyscape History
Copyscape published in 2004 by Indigo Stream Technologies. Since this tool has already existed for almost 2 decades, it allows Indigo to improve this web service many times to the level of stability. But most people didn't know that this tool is not actually the main program of Indigo, rather it's something like a modified version. Based on Wikipedia, In 2003, Indigo made a notification service that is called Google Alert. It's a service that will notify users if there is new content that fits the user's search criteria. That might be the initial idea that become the foundation of Copyscape, it tells user that there is another content on the web that is duplicating their content.
When I read that, I remembered that our UniqueText is also an extension from our PBN group service before. Where we need a tool to check every article draft from our group's members to make sure it's a unique, original and no duplicate that will make the blog deindexed. Because there are a lot of articles that need to be checked, while Copyscape itself is quite expensive for us, we made our own online plagiarism checker tool UniqueText that has similar accuracy.
Read Also: Why The Content You Publish Online Need To Be Unique and High Quality ?
How Copyscape Works
Of course we didn't really know the real process behind Copyscape other than what they explain on their website. I'm sure there is no plagiarism checker service that will spill their own search algorithm. But according to their FAQ, they use Google and Bing as a reference to find duplicate content.
One thing that we notice is their search process for duplicate content is quite fast. This is also the plus point that other plagiarism checker tools can't beat. From that thing, I'll just assume that Copyscape utilizes some server that has an enormous database to store indexed web pages from Google. Then, they can search for duplicate content in their own server without relying on Google's search engine. That is how they make a blazing fast duplicate checker.
And that particular bit is one of Copyscape's strong point that is hard to be replicated by its competitor. But I actually say that this is also its weakness. Because it uses its own database (even though it's sourced from Google), the result is not a realtime one. There is a chance that the detected duplicate is already deleted from Google index, but isn't yet from the Copyscape database. That will make our content get a duplicate warning, but if you further investigate it, you will see that the original url is not indexed anymore.
Copyscape Pricing
Copyscape used to charge 5¢ for every article checked, no matter how long it is. Then in April 2018, they changed their pricing to the article length. They charge 3¢ for an article within 200 words and if it is more than 200, they will charge 1¢ for every additional 100 words. For example, an article with 500 words needs 6¢ for checking. And for a 1200 words long article, it will need 13¢.
We Have Run Tests to Find Which One Is The Most Accurate Plagiarism Checker Here!
Copyscape WordPress Plugin
If you want to check your article duplicate status straight from your wordpress dashboard, then you need to install a certain wordpress plugin from plagiarism checker service. Lucky for you, Copyscape also provides that. Unfortunately to use that, you need to become a paid member. In other words, you need to prepare extra balance in your Copyscape account.
Copyscape wordpress plugin works exactly like the web version of Copyscape. The difference is you don't need to copy paste your text because they already provide a "Copyscape check" button and your article will be checked thoroughly.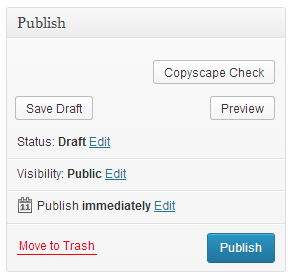 When there is a duplicate found in your content, this plugin will point it out.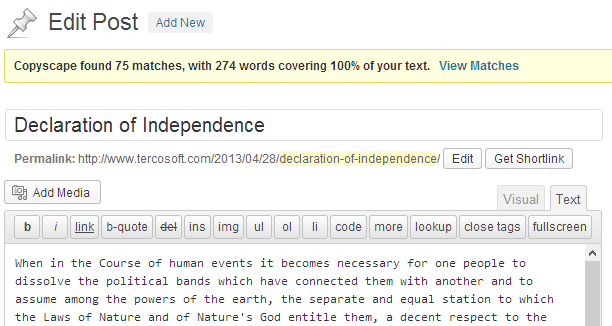 Then you can click "view matches" that will redirect you to copyscape's webpage and you will be shown every web content that also contains some portion of your text.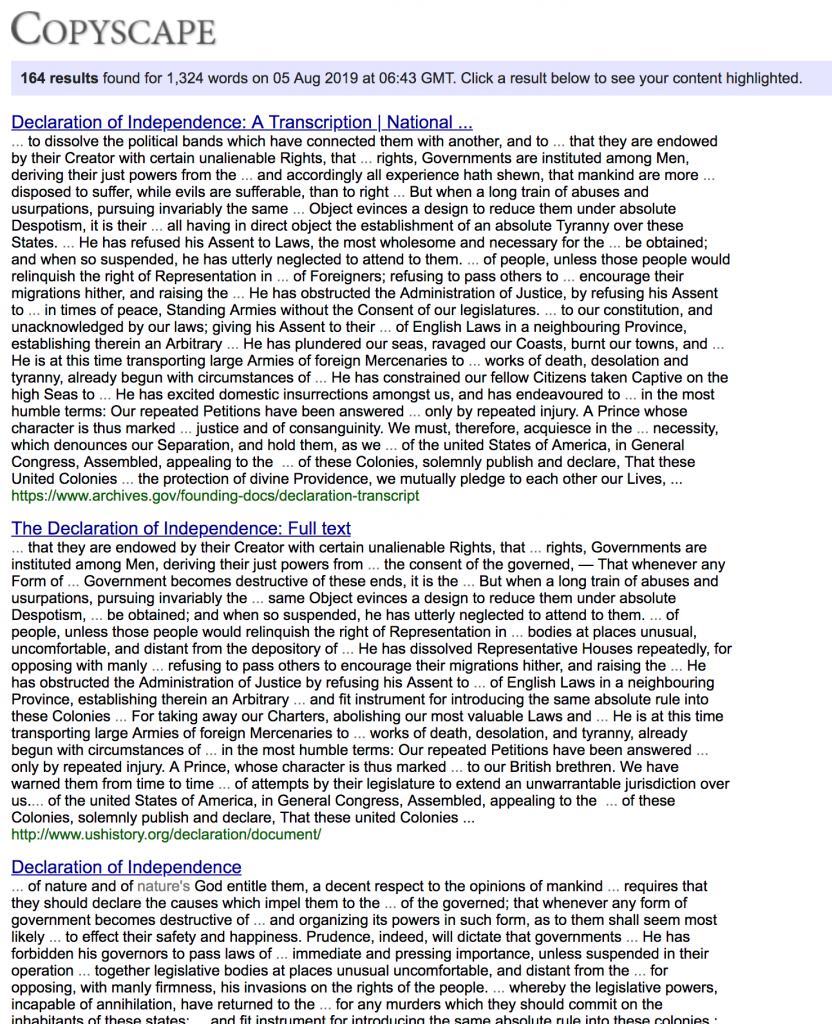 If you click the link provided in found duplicate, Copyscape will open the duplicated web page and highlight the duplicate part like shown in the image below.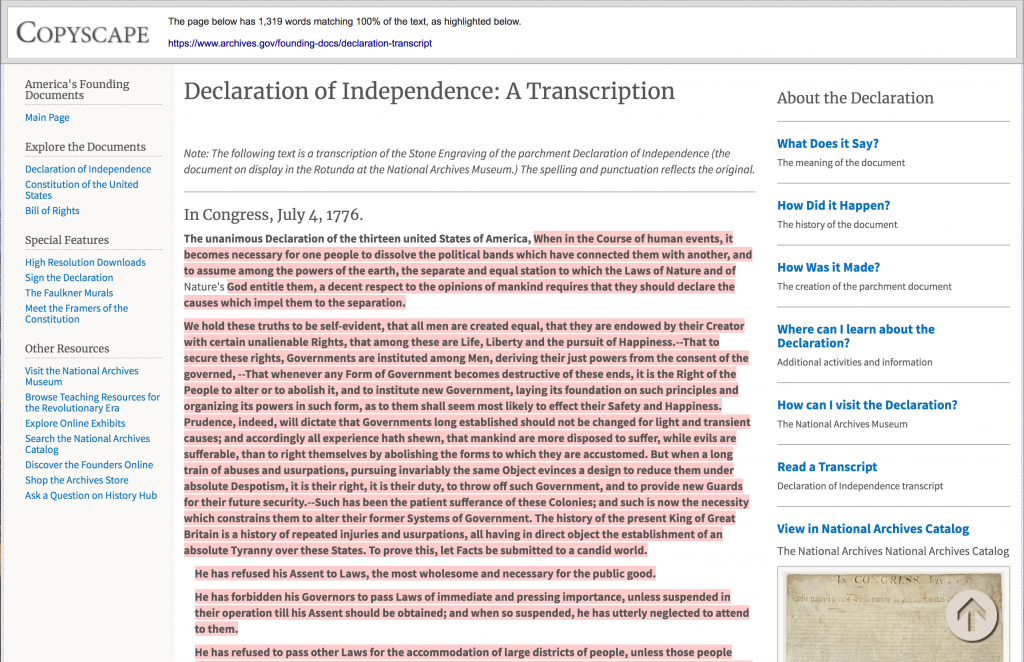 As I said before, Copyscape's capability to detect duplicate content is quite accurate. Copyscape wordpress plugin is also quite handy, too bad it's not helping you when you want to fix the part of the text that is considered as duplicate content. You must swing from the result, then your text, and then back to result and so on to fix your post.
This won't be a problem when you use UniqueText wordpress plugin. Let me show you how UniqueText works.
UniqueText WordPress Plugin
How It Works
The UniqueText plugin works just like Copyscape's one, by checking your draft to find duplicate content on the world wide web. The difference is UniqueText shows the check result on your wordpress dashboard sidebar and you don't need to redirect to a different page to see the report of duplicate check result, like in the Copyscape plugin.
How to Use
Click on "Check Article" in UniqueText's widget.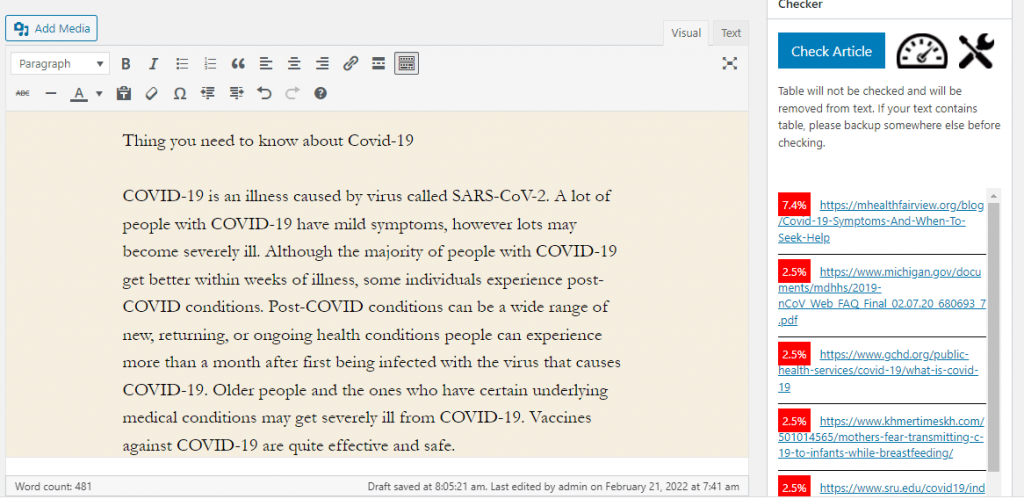 Then click on one of the found duplicate result (click on the percentage), and it will mark the parts that detected as duplicate.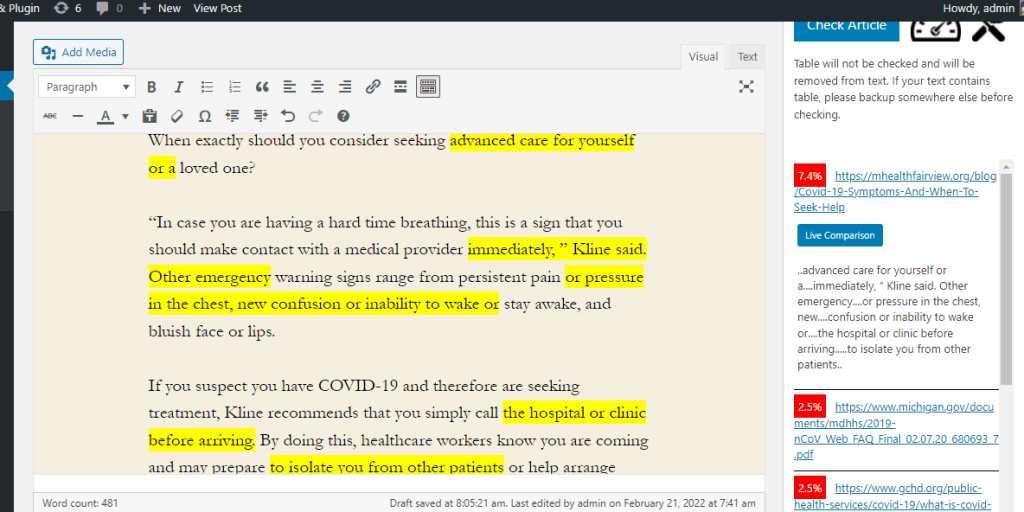 If you want complete result, you can compare it with related URL online by clicking "Live Comparison" button and it will show these result.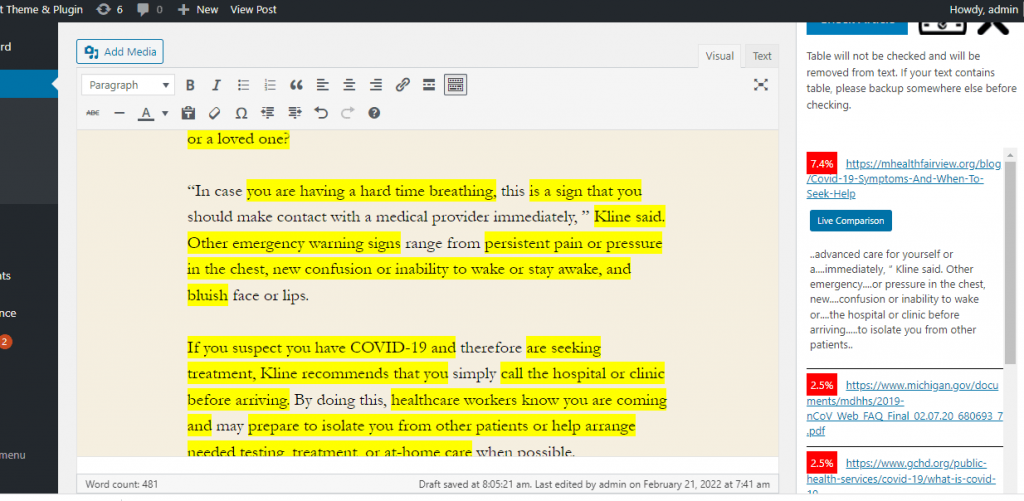 Then you can fix the duplicate part. Rewrite it with your own words. After that, do the same with the rest of the URL until there's no more highlighted text. Don't worry, there is no extra charge here. You'll be charged only when you click "Check Article"
UniqueText Pricing
UniqueText WordPress Plugin is free and you won't get an extra charge for the plugin. You will only be charged if you check for duplicates. Moreover, UniqueText uses a word quota system, so it's not per 100 words like Copyscape. Because of that you won't need to be cheap and round up your article to the multiple of 100 words, which is quite annoying to do, especially if you got something like 501 words for example.
How about the price? Generally UniqueText online plagiarism checker service is cheaper than Copyscape. You can buy the lowest quota bundle for $ 5.00 and get 50.000 words quota. That's about 100 articles, if you are doing 500 words each. We also accept multiple payment method such as bank transfer, QRIS, ShopeePay, GoPay, etc for Indonesians and Credit Card payment for International users.
Well, I know it's kinda scary to try something new. Luckily we offer 2000 free word quota for every new account. You can use those quota to try plagiarism checker service from UniqueText, whether it's through the website or by UniqueText wordpress plugin.
What are you waiting for? Try It Now!