I'm sure you know there are a lot of online plagiarism checkers on the internet whether it is free or paid tool. And maybe, you already got your own trusted service that you use for your article. The problem is, are you really certain that your trusted plagiarism checker give you an accurate result?
Maybe you are wondering why your article never gets indexed by Google, even when you already do on-page optimization, backlink, etc. You should try to re-check your article with an accurate tool. You don't know which tool is the best for this? Well, let's check it out!
Testing Method
To get an accurate test result, we are going to use the same article to test each tool. The article we use constructed from 5 small parts of articles from different sites and then manually rewrite so it is still readable. Then we will test it on several popular online plagiarism checkers and also on the UniqueText app.
We also share the said article here so you might check it yourself. That way, you will know that we are conducting real tests here. Let's see which one is the most accurate plagiarism checker web app. Other than that, we'll also compare the price of each tool.
Download test article here : download
Plagiarism Checker Tool Accuracy Comparison
Small Seo Tool (SST) Review
>> SST Plagiarism Detection Result
*disclaimer: We tested the free version of SST, not the premium one. Below is the result:
>> Small SEO Tools Price
Small SEO Tools (SST) App is free. If you can bear with tremendous amount of ads, you don't need to pay at all. But if you pour some money, you can't get some extra features such as paraphrase tool, developer API, downloadable and shareable report, etc. You can get those features by paying at least $8.90/mo that will give you a 25,000 words quota that is valid for 1 month.
SmallSeoTools wordpress plugin is also available in wordpress repository. You can download it directly from wordpress dashboard. It may also consume your remaining quota, if you choose to buy package from them.
>> Our Opinion of SST Plagiarism Checker
Don't waste your time with plagiarism checker service that search duplicate content by separating the article by sentence. Because, if you at least change one word from each sentence, your article will be considered unique by this tool. And believe me, Google is not that stupid.
Duplichecker Review
>> Duplichecker Plagiarism Detection Result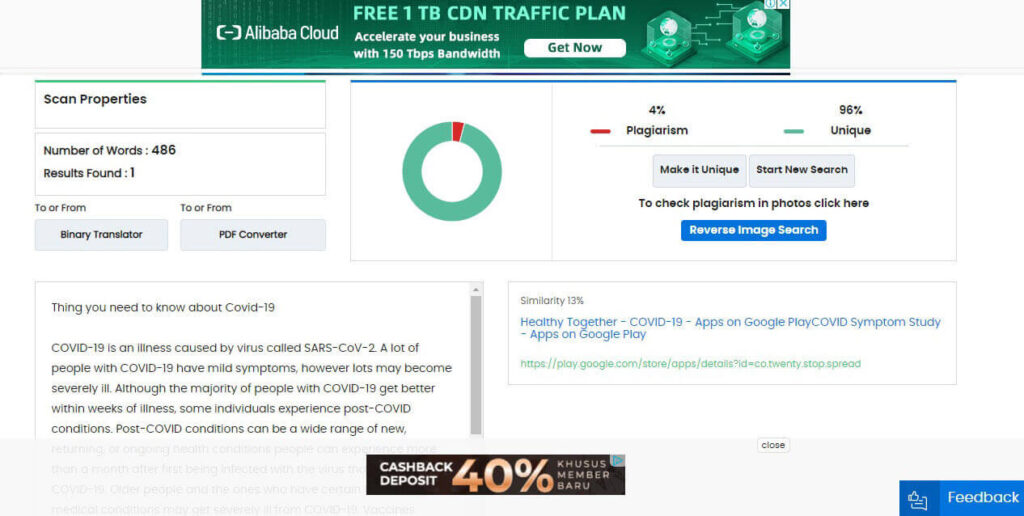 >> Duplichecker Price
Duplichecker plagiarism checker is also free. But as always, they make profit from free user by putting ads, and quite a lot of ads. And you are also going to get some extra features if you pay some cash, such as a paraphrase tool, custom report, etc. And those come with a 30,000 words quota that will expire after 1 month for the price of $10.00/mo.
>> Our Opinion of Duplichecker
Considering that it's the same result as SmallSEOTools, there is a high chance that this tools have the same work process. Hence, we also didn't recommend this tool for your article checking.
PrepostSEO Review
>> PrepostSEO Plagiarism Detection Result
*disclaimer: We tested the free version of PrepostSEO, not the premium one. Below is the result:
>> PrepostSEO Tool Price
Again, a free app with a lot of ads. Brace yourself if you decide to freeload on this tool. For the extra paid features, more or less same with Duplichecker. They also have a paraphrase tool, custom report, etc. With 5000 queries for $10.00/mo, you can get those features. However, there is no clear explanation on how many articles or words you can search with those queries, at the very least, we didn't find it.
>> Our Opinion of Duplichecker
At the first glance, this particular tool seems more advanced than both SmallSEOTools and Duplichecker. We also tested this tool with some other articles. It underlines the duplicate detected part with a red line, and underlines the paraphrase detected part with a yellow line. However, if we talk about accuracy, I still can't recommend this tool.
"But why? Isn't this tool quite accurate?". Sure, it is more accurate than SmallSEOTools and Duplichecker. But it still does not fulfill our standard as an accurate plagiarism checker tool and I'm sure Google will agree on that.
Quetext Review
>> Quetext Plagiarism Detection Result
*disclaimer: We tested the free version of Quetext, not the premium one. Below is the result:
>> Quetext Tool Pricing
Finally, a free tool without ads. Although, to use Quetext plagiarism checker, you need to register. Why do you need to register? Well, apparently they limit free users by giving them a 2500 words quota or 5 articles worth of checking. But you can buy more quota starting from $9.99/mo for 100,000 words quota or about 200 articles. Also, you will get some extra features like downloadable report, citation generator, etc.
>> Our Opinion of Quetext
In my opinion, this tool is definitely better than SST, Duplichecker and PrepostSEO. However, it is kinda not accurate enough for analyzing your blog/website. If you look closely at the earlier screenshot of the Quetext result, 6 of 10 results are from web.archive.org, which is a website that records dead website's pages. There is little to no chance Google indexes those dead websites. So you mostly spend more time getting bamboozled by those dead website results.
Copyscape Review
>> Copyscape Plagiarism Checker Result
*disclaimer: We tested the free version of Copyscape, not the premium one. Below is the result: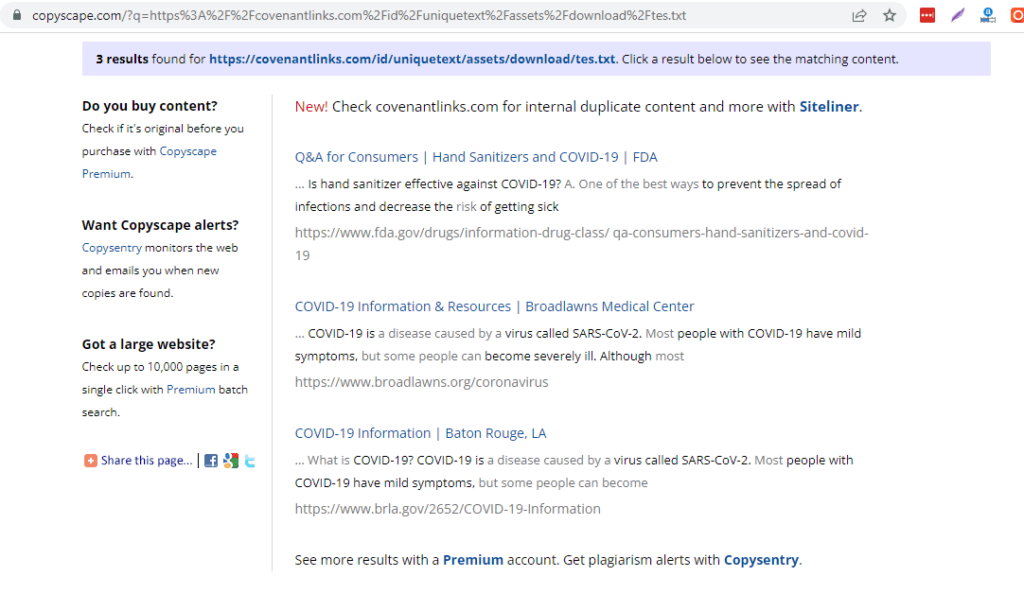 >> Copyscape Premium Tool Price
Copyscape is one of the most popular plagiarism checker services. One of the reasons is because it has a minimalist look and no ads at all. Although, Copyscape also provide some paid service.
It might be a hassle to use the free version, because you must first publish the article before it can do a duplicate check. Because Copyscape will ask you for the url, not the whole article. And by doing that, Copyscape will not only check your article, but also every single text in your webpage.
Also in the free version, Copyscape also limits how many articles you can check based on your network IP. If I'm not wrong, it's about 10 url limit per day. And not only from IP, but they also limit the web source of the url. So if other people actually check the same url as the one that you one to check, then you will get an error message (it's unclear how much is the limit for same url though).
The premium version of Copyscape uses a quota system. You can buy a Copyscape quota starting from $5.00 if you use a credit card and $10.00 if you use paypal. However, no matter how much quota you buy, that quota will expire in 1 years. So my advice is don't buy too much so it doesn't go to waste.
Okay, so you will have at least $5.00 or $10.00, then how is it used? For every article checked you will be charged 3c per 200 first words, and extra 1c for every next 200 words. Let's say your article is 150 words long, you will pay 3c. Then, if your article is 410 words long, Copyscape will count that as 500 words long, then it will cost you 6c.
>> Our Opinion of Copyscape
Copyscape is one of our main tool to check any duplicate content in our article, before our team developed UniqueText. It's because Copyscape gives quite accurate results fast. Even we recommend this tool as an accurate plagiarism checker as we said in our Copyscape review post.
Although that's why I am quite disappointed about its duplicate result here. Because it only lists 3 URLs as duplicates. While, when we checked the test with UniqueText, we got so many duplicates. But it's probably because we are using the Copyscape free version this time.
Why don't we use the premium version? Well, I am ashamed to say that our quota has already expired because we never use it again since we got UniqueText. However, if you got some quota on Copyscape, you might try it yourself, with the article that we provide. You can also send the result screenshot to us, we will gladly include that to this post. 
UniqueText
>> UniqueText Plagiarism Detection Result
Below is the result:
I think you can see yourself that UniqueText catches more similar content than other tools. UniqueText can also highlight duplicate parts according to each URL found. And if you are a paid member, you will also get a live comparison feature that will compare your text with result URLs' text.
If we talk about accuracy, it's clear that UniqueText is without doubt the most accurate plagiarism checker tool in this test. But its main feature is the capability to highlight duplicate parts and you can directly edit or paraphrase it in the provided text editor. After you finish editing, you can re-check it by clicking the percentage display again. If there is no more highlighted part in your text, then your text is considered different from the URL that you are checking currently. After that, you can repeat it for every URL found, until you got yourself a unique article content.
>> UniqueText Tool Price
UniqueText Premium uses a word quota system that counts per word, not per 100 words, unlike Copyscape. So you won't experience your 1001 words article being charged as a 1100 words article. Moreover your quota will never expire as long as UniqueText is still operating.
You can buy UniqueText quota starting from $5.00 for a 50.000 words quota. However, you could get yourself a good deal if you buy the more expensive ones. Especially if you need to check a lot of articles. But if you are working for a company, you might consider buying the quota subscription package. It gives a lot more quota than the normal quota package. Well, it has a bit of a downside though.
Subscription's quota will expire in 1 month, after you buy it. A downside indeed, but for company needs, I would say it could be not enough. But don't worry, you can still buy the add-on quota if your subscription quota is dried up.
For more information, you can check UniqueText About Page or dedicate site here uniquetext.net.